CXM's – Talk, Talk, Talk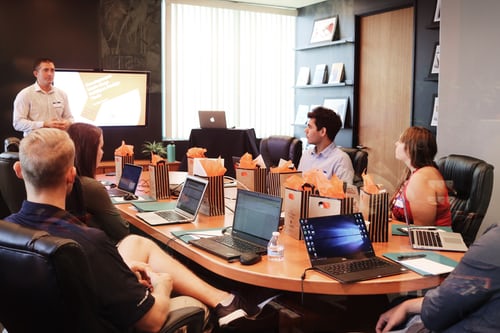 (Image courtesy of Unsplash)
A Customer Experience Manager (CXM) should be gregarious by nature. Your job is to make people feel cared about so naturally you should be outgoing, fond of company, and sociable.
Above all you need to be great communicators because to be successful in your role, you need to be constantly talking to people.
Here's a list of entities you need to engaged with (and by no means should this be considered exhaustive but it's a good start).
Customers – "Duh!" I hear you say and I'll admit this is probably the most obvious one on the list. How can you represent the customer back into your organisation without an understanding of them gained by actually talking to them? Big data can only tell you so much.
What do they like and dislike about you? What do they think you could be doing better? What challenges are they facing that you can help them with?
This isn't just the CXM's job. Every single person in the organisation should spend time talking to customers on a regular basis. It should be ingrained in every employee that they have a job because of the company's customers, that the customer is at the top of the organisational pyramid, and that every decision made within the organisation needs to be made with the customer in mind.
The CEO – If you don't have the full support of your CEO, you're sunk. Its non-negotiable. You simply can't expect staff to align with a customer service ethos if you haven't got an irrefutable mandate from the CEO.
If you don't have the full support of your CEO, you're sunk.
So schedule regular meetings to ensure the work you're doing stays on her radar. Get her input on your strategy, brief her on best practise (which you've diligently researched), and provide her with a communication plan.
The CEO is a very important player in your overall CX strategy. What can she do to help you achieve your CX goals?
Frontline Staff – It goes without saying that the people you entrust your customer relationships to are probably the most important part of your CX plan. Without their buy-in, engagement and support you might as well update your resume and clean out your desk.
So get out there and talk to them! Socialise your strategy, highlight great customer service stories from across the organisation, answer their questions, and share the insights you've gained. People like to know that their efforts are making a difference. Update them on your key metrics be they the company's NPS/CES score, the amount of calls you have coming into your complaints line, or the increase in positive mentions you've detected from your social media monitoring.
But isn't not all one way traffic. Frontline staff are a valuable source of information. Overlaying what the customer is saying with employee feedback adds a richness and depth to the data that would otherwise be missing. Tap into it.
Frontline staff are a valuable source of information. Tap into it.
Back of House Staff – In any company, you are either in a customer-facing role or supporting someone who is. Presumably you've already made everyone in the organisation aware of how their work impacts the overall customer experience. Maintain their focus by sharing insights, stories and metrics.
The Executive – Depending on the size and structure of your company, direct reports of the CEO may also be very influential within your company. Stay across their challenges with regular meetings. Gain an understanding of what you can do to help each other achieve your respective goals.
Suppliers/Outsourcers/Retailers/Wholesalers – I'm basically talking here about anyone outside your company that can impact your customers' experience. These companies all need to be made aware of the importance you place upon CX and the pivotal part they play in the delivery of it. Communicate your goals, share your metrics, express your expectations, and gain their buy-in and acceptance. Then talk regularly to maintain the focus.
Companies outside your own that can impact your customers' experience need to understand the importance you place upon CX and the pivotal part they play in the delivery of it.
Your Counterparts – Grow your knowledge and refresh your perspective by spending time outside your own industry talking with other CX managers. Network at CX industry events, join some of the groups on LinkedIn (I'll happily provide a list if you don't know who they are), or just with a mentor for coffee. Just get outside the insular world of your own company and start talking to people who you can learn from!
So there's my list. That's a lot of talking, huh? If you're a CX Manager, what percentage of your day is spent talking with people? Are there any groups on this list that I've missed?