Lean and Customer Experience
A few years ago, I completed an MBA at Melbourne Business School (MBS). As a member of their alumni community, I am often invited to events that are held to further graduates' knowledge and understanding of specific topics. So when I was recently invited to a presentation titled "Operations Efficiency and Customer Satisfaction" that involved speakers who were experts in their respective industries, I jumped at the chance to attend.
The presentation centred on lean principles and the trade-off that exists between being responsive to customer needs and operational efficiency. This was displayed diagrammatically in the following chart: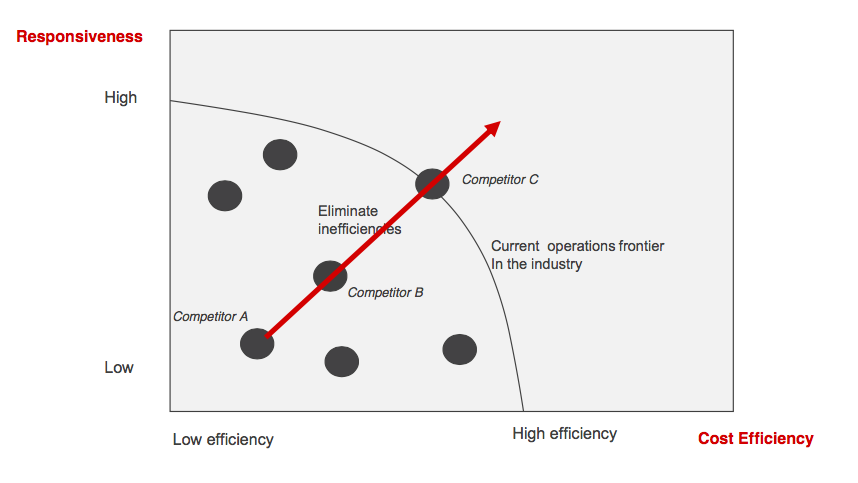 This chart plots each competitor in an industry in terms of their responsiveness and efficiency. The curved line represents the frontier beyond which it is not possible to go at this point in time. Clearly, competitor C is in the optimal position.
Some firms on the frontier experience trade-offs that see them either becoming more responsive at the expense of efficiency or vice versa. So they move either left or right along the frontier.
Exceptional firms that are already on the frontier find ways to push the frontier further out: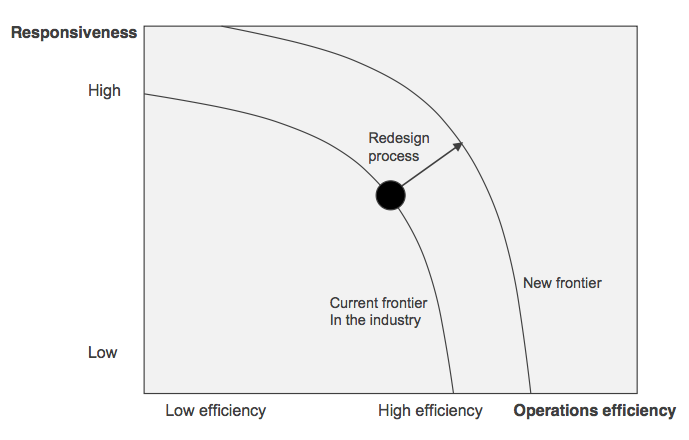 And that's where lean comes in. It helps companies to become more responsive to customer needs and more efficient by redesigning the way they do things.
Lean organisations understand customer value and focus their key processes to continuously increase it. The ultimate goal is to provide perfect value to the customer through a perfect value creation process that has zero waste.
As the speakers presented, I realised how much lean has in common with customer experience.
Annette Sando, the General Manager Supply Chain – Beverage at Orora spoke about "the relentless pursuit to add value" and said that for Lean to work it:
– MUST be adding value in support of the business strategy
– MUST be oriented to meet / outperform customer needs
– MUST have an understanding of INTERNAL process and manufacturing capabilities compared to marketplace demand, and
– MUST have an understanding of supplier process and manufacturing capabilities compared to marketplace demand.
She said that you are only as good as your weakest link so the extended team needs to understand WIIFM (what's in it for me).
The connections with CX are obvious, aren't they? Certainly for the first three points. I'd relate the fourth to understanding your employees' capabilities and ensuring they are trained and empowered to satisfy customers' needs. And her point about only being as good as your weakest link relates directly to CX.
Seamus Power, the CEO of Branach, spoke about lean transformations and said that culture and strategy (understanding WHY you want to adopt lean) formed the foundations of any successful transformation Beyond that, communication and leadership were both common to successful change.
The major learnings he'd taken from undertaking multiple lean transformations were:
* For success with Lean it has to be at the core of the strategy
* Change isn't easy. Understand your organisation's culture
* Leadership provides the oxygen to Lean transformation
* Has to become the only way of working and thinking
* Structure and business patterns must support it
* Measure before you start and keep measuring
* Don't automate until you understand
* Keep it simple
Again, anyone with a basic understanding of CX management can see that the parallels are abundant.
Finally, Kannan Sethuraman, an Associate Professor at MBS (and from experience I can tell you a damn good lecturer) tied it all together with five key takeaways:
Focus on the voice of the customer – understanding the value of customer centricity is key
This is critical for the success of any firm. Putting customers first by truly understanding their needs is pivotal for delivering the needs efficiently which lean does a good job of.
Having the right strategy guiding the lean practices
This sequencing is very important. Without a clear coherent strategy that is communicated across the layers, lean may not get you what you actually want. It is important to connect company's strategy and goals across the organization.
Select and train the right people
Choosing the right people, respecting them and providing training to enhance their skills and empowering them is critical for achieving success. Forging meaningful partnerships with upstream and downstream partners is also equally critical.
Have the right performance systems that are transparent and encourage team work and problem solving
People behave according to what they are measured and incentivised. If you don't have the right KPIs that encourages a customer-centric approach through boundaryless collaboration and team work, you are not going to achieve goal congruence.
Leadership showing strong commitment to create the right culture and mindset
Last but not the least, the leadership and top management commitment towards lean is critical for its successful execution. It should not be perceived as the flavor of the month. The leaders need to show long term commitment and have the ability to steer their team towards desired destination.
With a deep focus on customer needs at their core, lean and customer experience are profoundly intertwined. For further reading on this topic I recommend Lean and the Customer Experience Journey, LEAN versus Customer Experience Management and my interview of Olivia McMillan, the Senior Manager – Customer Experience at REA Group.
My thanks to Kannan Sethuraman, Annette Sando and Seamus Power for allowing me to reproduce content from their presentations.