Learning from US Customer Experience Leaders
CXpert associate, Sean Heylen, steps in today to deliver his review of a brand new Customer Experience report from the US.
A key study has detailed how leading businesses across a number of sectors have made Customer Experience, or "CX", their core strategic focus, and how it is providing excellent results for their customers, employees, and in turn their shareholders.
Have A Nicer Day – Learning From The USA's Customer Experience Leaders was produced by consultancy company Nunwood and is focussed on researching, analysing and applying customer experience best practice from around the world. The paper is a great read for anyone interested in learning from best practice to improve their business and its leadership capability.
The industries that are specifically studied are:
– Financial services,
– Travel,
– Utilities,
– Non-food retail, and
– Grocery retail.
Some example businesses in the study are Amazon.com, Disney Parks, Krispy Kreme Donuts, Costco and Southwest Airlines.
The way that leading CEO's in the US are embracing and championing CX is nicely summarised by Herb Kelleher, Co-Founder, Southwest Airlines:
"I tell my employees that we're in the service business, and it's incidental that we fly airplanes."
Key themes coming out of the study:
– A service culture is resurgent – service declines through cost cutting of the 90's and 00's are being reversed,
– CEOs are customer pioneers – the leaders set the agenda and are building customer culture from the top down,
– Customer-driven innovation is being embraced – continuous CX measurement and improvement is a focus, not just one-off projects, and
– Omnichannel supplants digital – the distinction of online and offline has faded and there is increasingly a digital element in every touch-point.
Each of these themes has a number of steps and/or components in best practice and the various case studies in the report provide excellent examples of these steps across the 5 different industries and the various business types and sizes.
The 6 Pillars of Customer Experience are identified in the study:
Personalisation – using individualised attention to drive an emotional connection.
Time and effort – Minimising customer effort and creating frictionless processes.
Expectations – managing, meeting and exceeding customer expectations.
Integrity – being trustworthy and engendering trust.
Resolution – turning a poor experience into a great one.
Empathy – achieving an emotional understanding of the customer's circumstances.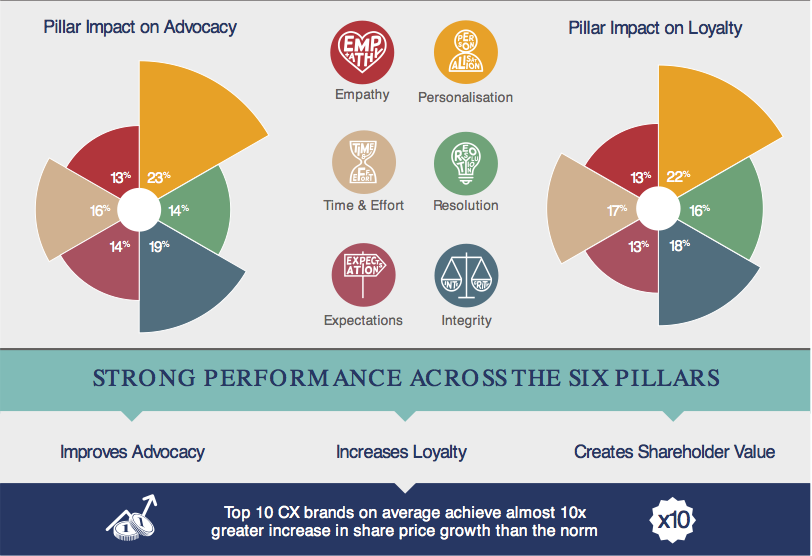 Each of the pillars has a different level of impact on advocacy, loyalty and therefore shareholder value creation. Strong performance across the 6 Pillars will drive these things, however.
In terms of how to do this, the most successful firms in the US engage in 4 critical activities:
Customer experience strategy – figure out how to define strategy, communicate the vision and have their team rally behind the customer focus.
Journey mapping and CX design – making CX mapping and design a core part of day to day business, not just a one off project.
CX measurement/voice of the customer – making sure that CX measurement actually engages staff and is relevant to their performance, not just describes customer feedback.
Cultural change and employee engagement – setting up the business and its systems for the best customer outcomes.
In conclusion, the report provides an excellent overview of the trend toward serious and systematic CX in some of the USA's most successful companies. An analysis of your brand against the Six Pillars with comparison to the best practice leaders is a great place to start your CX journey!