Ticketing Troubles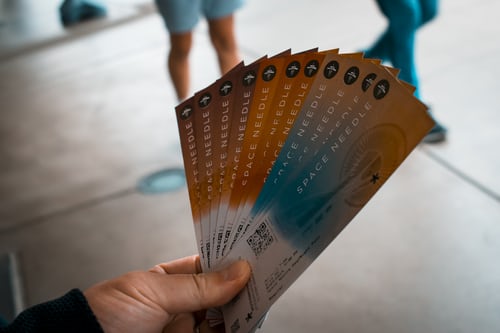 (Image courtesy of Unsplash)
"The world needs tickets, it doesn't need ticketing agencies."
I'm paraphrasing Bill Gates and praying for some sort of disruption in the ticketing business after another terrible experience this morning trying to buy some tickets to an Australian Football League (AFL) match from Ticketek.
Today's post starts off a little negatively but finishes with what can be learned from the situation so stick with it.
As a mad Carlton supporter (Go Blues!) I usually get along to the first game of every season. The tickets to that game were available from Ticketek's website at 9am on Friday, March 4. Wanting to get good seats, I was online pretty much at 9am on the dot. Three times I went through the process of logging in, inputting my membership number, selecting my seats, and attempting to pay for the tickets (including a $2.70 fee to print the tickets myself) before the site would crash and send me back to the home page.
After the third occasion (almost an hour after I'd begun trying), Ticketek's website was throttled – a message on the screen told me I wouldn't be able to get on to the website until others had left it. A twenty second timer counted down between attempts to let me in.
I tried calling them but all I got was an engaged signal. This has happened almost every time I've called them in the past. To push people to purchase tickets using their website (which is obviously a much lower cost channel for them) Ticketek under-resources its contact centre leading to inordinate wait times or simply an inability to get through to it.
So, frustrated, I turned to social media and saw a message from the AFL Membership account: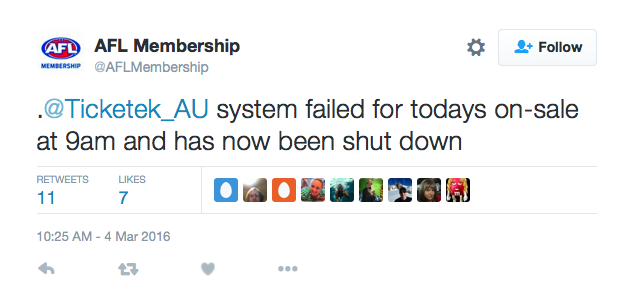 Note the time of that tweet? Almost an hour and a half after it would have been abundantly clear that Ticketek's systems weren't coping with the volume of traffic that was hitting them.
Minutes after that tweet came apologies both from the AFL Membership team and Ticketek and then later a media release from the AFL: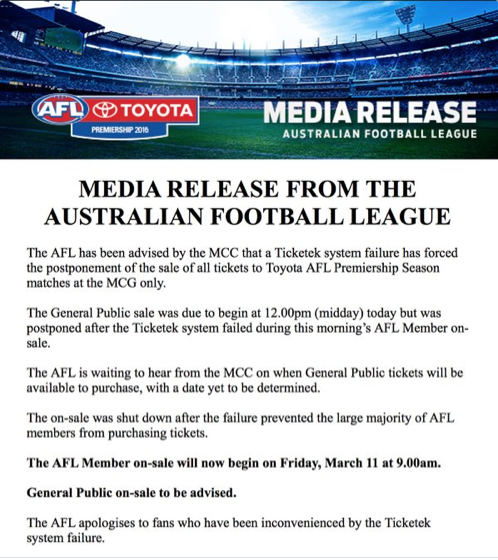 So what are the lessons companies can learn from this experience – one that has made me enough of a Detractor to write a post about it?
Prepare for customer demand. Its common sense but time and time again we see websites crashing because companies have underestimated customer demand. If you are an online company, spend whatever is needed to over-provision your systems to ensure they can cope with higher than expected volumes of traffic.
Communication is critical. I wasted an hour this morning trying to spend my hard earned with Ticketek. As soon as it was known there was an issue, a message should have gone up on the website letting people know there was a problem. And rather than an engaged signal, use an IVR to communicate the same thing to callers. People are a lot more sympathetic to your plight when they know what is going on.
Take ownership. Your customers' time is important. If you've just wasted a ton of it, apologise. Then tell people what happened and what you'll be doing to ensure it doesn't happen again. In this regard, the AFL has only partially succeeded with their press release.
Don't charge fees that negatively impact customer loyalty. I've written about bad profits before and Ticketek's fee to email customers soft copies of their tickets for them to print themselves is a prime example. Not only do I have to pay an exhorbitant fee for an email to be sent to me, I then have to spend my time and money (printer ink isn't cheap you know!) printing the damn things. And if you think you could avoid this fee by having mobile tickets sent to you, think again. Ticketek charge a $2.70 fee to send you those as well. Outrageous.
Make a commitment to customers and keep it. In researching my post today I went to Ticketek's website and looked up what commitments they made to customers. Here's what I found: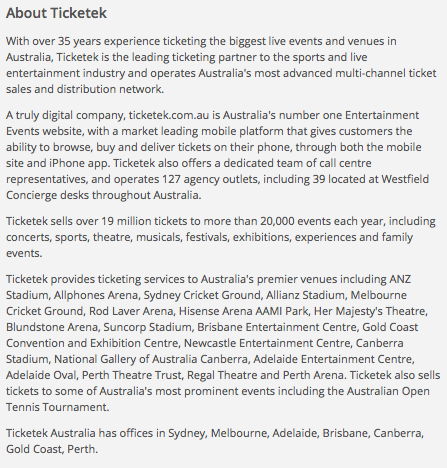 See any commitments in there about the type of experience they're going to deliver you each and every time you deal with them? Me either.
When creating your customer experience strategy, define the experience you can consistently deliver across each touchpoint and then communicate that far and wide (internally and externally). A good way of doing this is by asking yourself the question: "what do we want our customers to say about us after they've had an interaction with us?"
Hopefully today's experience has taught Ticketek and the AFL a lesson or two and their service improves from now on.
In the meantime I'll keep praying for that disruption…
Post script: At 3:20pm on Friday, just as I was putting the finishing touches to this post, I received the following email. It was a little late, but well done, AFL Membership – this is exactly the type of communication I referred to in point 2 above.

"Dear Ben,
As you may be aware, a major Ticketek system failure has forced the postponement of the sale of all tickets to the 2016 Toyota AFL Premiership Season matches at the MCG.
The system failure affected this morning's AFL Member Rounds 1-6 on-sale and we sincerely apologise for the major inconvenience to many of our AFL Members.
We are still waiting for the MCG and Ticketek to confirm the specific reasons for this failure, however, what we do know is as follows:
The Ticketek system failed soon after 9.00am during the AFL Member on-sale this morning
Prior to the system failure a minimal number of tickets were sold across all games during Rounds 1-6, including the ANZAC Day Collingwood v Essendon match
As soon as the failure was identified we were in constant communication with Ticketek and were hopeful of a quick solution
When it became apparent that there was not an immediate solution, we requested the MCG and Ticketek to suspend the on-sale and began communicating with our Members via social media, SMS and through our customer service centre
We have confirmed with the MCG and Ticketek a new on-sale date of Friday, March 11 at 9am ESDT
This failure does not meet our standards of making your football experience better and we are currently in contact with the MCG and Ticketek to ensure they are working towards meeting those standards.
Once again we apologise for this inconvenience and we share in your disappointment.
Yours sincerely,
Stephen Shirley
AFL Membership Manager"
Post Script
On Friday, March 11 at 9am tickets once again went on sale and many people including myself experienced the same issues once again with Ticketek. I was eventually able to get tickets by logging  in through my smartphone rather than using my laptop. That evening the following email was received from the AFL Membership team:
"Dear Ben,
AFL CEO Gillon McLachlan has today contacted the MCC to express his disappointment at the service delivery to AFL fans by the ticketing agency, Ticketek.
"While ticket sales have been strong, the service to many fans has been frustrating," Mr. McLachlan said.
"As AFL CEO, I am disappointed for AFL members who were impacted this morning.
"We have been in regular communication with the MCC, today who share our frustration at the standard of service provided by Ticketek."
"While we are thrilled with the high demand for tickets, the number of AFL members who were either denied or delayed by errors in the Ticketek system is unacceptable."
"The system is now working effectively but too many of our members have been impacted."
Mr McLachlan said the problems were even more disappointing given the Ticketek system failure last week.
"Being forced to postpone last week's planned on-sales was already deeply concerning," Mr McLachlan said.
"The AFL and the MCG cannot tolerate having our fans impacted this way. I will be working closely with the MCC as the ticketing system must be greatly improved."
The AFL will be meeting again with the MCC and Ticketek in the coming week.
AFL Membership team"
The story made the front page of the local newspaper the following day. I suspect we haven't heard the last of this.