Embedding Customer Centric Change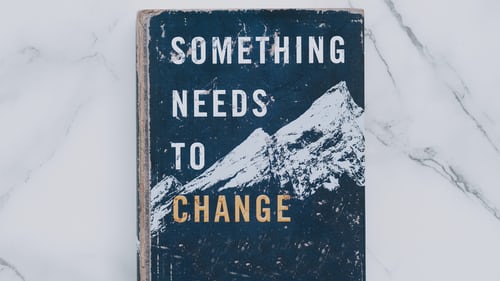 (Image courtesy of Unsplash)
In today's post, I'm talking to customer experience managers or team leaders who have either just made a change or are about to which will make your organisation more customer centric.
First of all, well done! It takes courage to make changes. And as George Bernard Shaw said: "progress is impossible without change".
Secondly, any change you make should be accompanied by a change management program. It reduces the chances of your change failing and as Annette Franz recently wrote in her excellent post Measure Twice, Cut Once preparing thoroughly helps accelerate the rate of improvement.
So here are six tips to help you embed the change you've made within your organisation's operating rhythm.
1) Get senior management sponsorship. I can't stress enough how crucial this is. Without it, you simply won't succeed. Management needs to vigorously and continuously demonstrate support for your strategy and the introduction of this change.
If they're not prepared to do that now before your change gets challenged by sceptics (and somewhere along the line it will get challenged), chances are they'll jump ship very quickly when the heat is on. Spend more time now convincing them of the value of your change and garner their unequivocal support.
2) Be very clear about the business outcome you want as a result of the introduction of this change. For example, simply measuring your NPS score through feedback collection won't drive long term changes in internal behaviour.
You need to understand why customers gave you that score and then take ACTION to address the issues that are being identified. The business outcome in this case may be a 10% reduction in calls to your contact centre over 1 year which you estimate will save the company $X,000. Be specific.
3) Talk the language of senior management. This follows on from my previous point. Associate costs to the problems you're trying to eliminate and dollar values to the benefits associated with the achievement of the outcomes you want. I've seen far too many changes that could have been very beneficial for companies shot down in senior management meetings because the person proposing the change couldn't justify their program with figures.
It is not enough to say "this change will improve our customer relationships". What does that mean in terms of share of wallet, customer loyalty, customer lifetime value, and referrals? Build a business case so strong that it makes the decision to adopt your change a no-brainer. Doing so will also help you garner the executive support you'll need further down the track.
4) Identify change agents – people with significant influence within your organisation – and as Jim Collins would say, get them "on the bus". Make them champions. Explain what you're doing, what you're trying to achieve, and use those champions to help you to start changing behaviours. Their influence on others within the organisation will help you motivate the troops, neutralising their natural resistance to change.
5) Align what you're trying to achieve with your company's core strategy. Your change won't stand much chance of success if it is perceived to be running parallel to (or worse, at odds with) your company's core strategy. Understand your company's overarching strategy and be able to articulate how your change aligns with and serves the company's goals. If you can't do that, don't waste your time introducing it.
6) Plan your communication strategy. As I've written previously, a lot of a Customer Experience Manager's time should be spent talking to people. Before you start impacting others' work experience, plan how you're going to communicate your change. Different groups require different messages so be sure to map out what you'll be saying to senior management, middle management and frontline staff.
The key will be to constantly reinforcing why you're making this change; the benefits you believe it will deliver. Providing key bullet points to senior managers will also ensure they remain 'on-message' whenever they're publicly backing you.
Doing these six things before you introduce the change you want to make will significantly improve your chances of successfully embedding it within your organisation.
Good luck!
"Life is about moving, it's about change. And when things stop doing that they're dead." ― Twyla Tharp